Slowakije
In the hayworld is discussion on the birthplace(s) of the haybarn. Bill Tarkulich found very interesting buildings in Slowakia and reported to SKHN:
Van: Bill Tarkulich
Thank you for the fine web pages on the "Hayrick".
I found your site when researching about a hayrick described in Slovakia as a "oborohy". These were found in my ancestor's villages in northeast Slovakia, on the borders of Poland and Ukraine. They are not found anywhere else in the area. I can only speculate that the land barons during the Austria-Hungary, some of whom were Dutch perhaps brought the idea forward.
I have one photograph, circa 1960s, from a book (scanned image) of the hayricks in the village of Nova Sedlica. If you are interested, I can send you the image. If you are interested in these villages, you can find out more at my web pages http://tarkulich.tripod.com/
Sincerely,
Bill Tarkulich
---
Hello  Wim,
Thank you for your kind reply.
Attached is a photo of the Obohory in Nova Sedlica, Slovak Republic (also called Slovakia). The photo was taken in the 1960's. It was scanned and sent to me from Slovakia. I do not think I can get any better quality. What I believe is unique about this is two things. First, its roof is made of grass. The second is that this is a very rare structure for the region. Most of the haystacks are small, tall and narrow, in the fields, made by one person. This is an extremely poor area.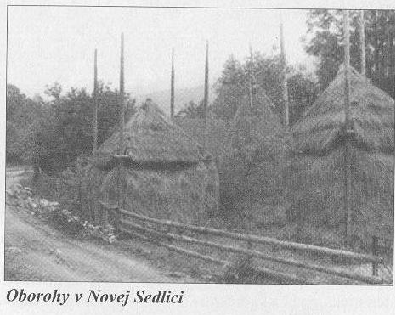 When I noticed that Hayricks are common in Dutch countries, I began to thinking about some of the old landowners of this region.
"Stefana Rholl descended from an old Dutch entrepreneur family, which in the 16th century ran a business in Gemer and on Spis, creating efficient ore melting as well as glass, smelter, charcoal burning and other jobs"
So I began to hypothesize whether or not this OBORHOY was the idea of distant landowners such as RHOLL, since we do not see it anywhere else in the region. We may never know this answer!
While http://tarkulich.tripod.com/ is my main link to my trip to these villages, I have another web sitehttp://www.iabsi.com/gen/public/ that I am steadily constructing for English-speaking researchers of the area of Eastern Slovakia. I have collected and am translating considerable historical information which I am publishing. Included therein will be the oboroh material as well as much more historical content. I will put a link to your site, for those who want more information on Obohory. I expect that content to go online in Fall, 2003.
The http://www.uvi.si/eng/service/audio-visual/slovenia-in-pictures/ethnolog
y/102.html link no longer works. They have reorganized their site and I did locate the photos.
There is a popular confustion over the countries of SLOVENIA and SLOVAKIA (SLOVAK REPUBLIC). In fact, they are two separate nations. SLOVAKIA is bordered by Ukraine, Poland, Hungary and Czech Republic and Austria. SLOVENIA borders Austria, Hungary, Croatia, Italy and Yugoslavia. So while your information about SLOVENIA is important, it is distinct from SLOVAKIA.
Keep up your good work!
Sincerely,
______________
Bill Tarkulich