Barrack History
Traces of old wooden poles , dated around 1500 year BC can be interpreted as haysheds . In Holland many rests dated to the Middle Ages have been found in many places.
The oldest written Dutch source is from 1022. The first paintings are dated early in the 14th century. This painting shows a flooding in 1480 (St Elizabeths flooding) (Rijksmuseum Amsterdam). With a six pole hay barrack.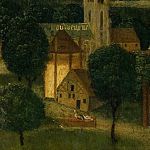 Scientists differs in their opinion of the source of the barrack. Some think it was Holland, some think of a parallel development in different countries. But they were known in earlier years in the whole of Eastern Europe, Germany, Italy, Belgium and England. The discussion has not been ended yet, because internet delivers new sources for research. In Manhattan Dutch farmers built their stacks besides indian teepees around 1650. After them hay barracks developed in North America up to New Foundland.Nowadays american institutions are realizing that the rests of this development need preservation and work hard to realize their ambition.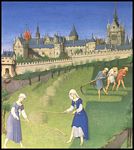 Book of Hours 1411
Brothers van Limburg
An American hay barrack lover from Slowakian origine : Bill Tarkulich., wrote us :

Attached is a photo of the Obohory in Nova Sedlica, Slovak Republic (also called Slovakia).The photo was taken in the 1960's. It was scanned and sent to me from Slovakia. I do not think I can get any better quality. What I believe is unique about this is two things. First, its roof is made of grass. The second is that this is a very rare structure for the region. Most of the haystacks are small, tall and narrow, in the fields, made by one person. This is an extremely poor area.
When I noticed that Hayricks are common in Dutch countries, I began to thinking about some of the old landowners of this region.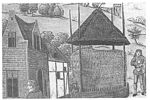 "Stefana Rholl descended from an old Dutch entrepreneur family, which in the 16th century ran a business in Gemer and on Spis, creating efficient ore melting as well as glass, smelter, charcoal burning and other jobs"
So I began to hypothesize whether or not this OBOHORY was the idea of distant landowners such as RHOLL, since we do not see it anywhere else in the region. We may never know this answer! 
A Tsjechian Bible from 1400 reports of Dutch barracks in the region...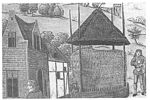 In Holland , just as in other regions, the iron hay barrack and "the elephant faecaliae", the silage ball, came to replace the old barrack and stack. But nowadays nostalgia prevails and the barracks are coming back and are built new everywhere. In Belgium awareness is growing also and the same we see in Romanie.
Realizing that the old knowledge of hay barracks and stacks is fast evaporizing we started preservation activities in some countries.